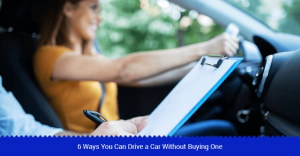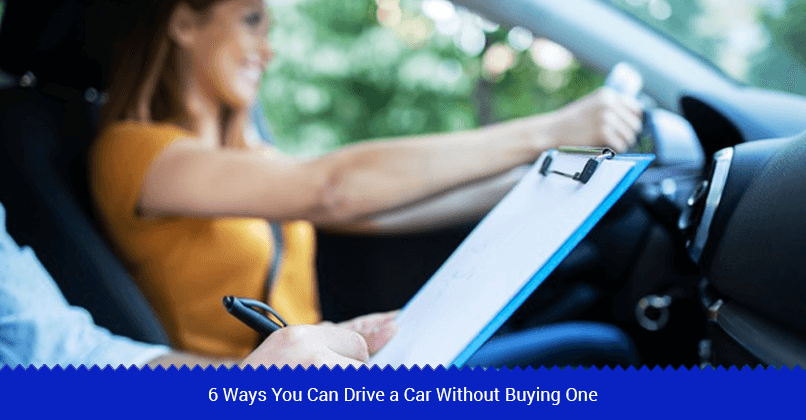 Buying a car for each member in the house is not realistic. Even when you can, it only adds to your yearly taxes and gas expenses.
Clearly, purchasing a car is not the only way to drive one yourself.
There are several other ways, out of which we will discuss at least six in today's post. So, you can drive different cars without having to own them.
Even if you only require a single car, it is better to leave the purchasing option at the bottom of your consideration list. Because, due to Covid-19 and its effects, nothing can be said for sure as to what will happen to the auto industry in 2021 and the coming years.
Now, without any further delay, let's get down to it!
Six Ways of Driving Cars Without Purchasing Them
Uber, Lyft, and other similar ride-hailing and ride-sharing apps and services are widely available but usually in highly populated parts of the U.S.
Because for such apps to operate, a certain number of users and drivers are required. Otherwise, these apps will only charge you more or will have no riders or drivers in the area.
That's why it is best to look for alternative options, such as the following:
Traditional car rentals are supposed to be for days, weeks, months, and so on. But when you go with an hourly car rental service, such as Zipcar or Hertz, you can pay as low as $7 per hour for driving around a car that's not yours.
Picking up the car and parking it back to a designated location is your responsibility. The vehicles can be found on college campuses and major parking lots with high traffic all over the U.S.
Initially, for such services, you need to pay an application fee (one time), monthly membership, and the hourly rental fee ranging between $7–$10 per hour and $75–$85 per day, considering your location. While insurance and gas expenses are included in these rates.
Peer-to-Peer (or P2P) car-sharing refers to services where you can directly rent cars from their owner(s) for a specified amount of time.
Want to test drive a car without renting it for a longer duration? P2P rentals can help you with that. As you can rent any vehicle of your choice at rates that their owner(s) decide. Turo is one such service that provides peer-to-peer car rentals.
According to Turo's website, its services are available in various cities across the U.S. and Canada. However, their prices are usually set by car owners that can vary between the range of tens to hundreds of dollars per day.
Currently, another similar service Getaround is available in eight cities so far. Its rental rates, starting at $5 per hour, are again set by the vehicles' owners.
A popular way to get a permanent car for your home or office use is lease swapping. This method includes paying for a car's lease after transferring it to you from the original lessee.
Making it a cheaper way to keep and drive a vehicle without owning it. Because you just have to pay monthly installments ($200 and upwards) to enjoy all its benefits and return it to the financing company once the lease term is over. In turn, what you get is a pleasant driving experience free of any capital cost or maintenance.
You can start the process by searching for willing lease sellers on platforms like QuitALease. Once you contact the lease seller, you have to evaluate the vehicle and agree on the terms. So, they can start the lease-transfer process.
If the leasing company finds you eligible for the lease swap, then it will only take a few days before you are driving a car without having to buy it.
A lease transfer fee is required when the official papers of the lease swapping agreement are signed. But, mostly, even that's taken care of by the lease seller after some negotiation. So, you don't have to worry about such fees either.
Much like hourly rentals, Point-to-Point car rentals allow you to pick up an available car, parked at a nearby location, to drive around as you wish. But the main difference is that once you are at your destination, you have to leave it there for someone else who might be looking for a car rental as well.
Meaning your rent period starts with you picking up the car and ends as soon as you reach your specified destination. Rates are decided by the minute, hour, or day. While some services in this domain also offer drivers to pick you up.
Renting cars on monthly basis was the norm for a long time before other more flexible car rental services rose to the surface. Hertz, the service we mentioned earlier for hourly rentals, also offers rentable autos on monthly basis.
However, the prices can vary depending on your location, chosen car, and rental duration. The monthly expense for a two month-long economy car rental was observed around $750 to $1,250 that included fees and taxes.
This is no small amount. But it offers more flexible terms in comparison to lease contracts, which are harder to nullify.
That's why many people register on QuitALease as they want to get rid of their lease contracts. Usually due to their bad financial situation among various other reasons.
Subscription Services for Vehicles
Something new has found its way on the block. A membership service, Book by Cadillac, allows you to drive around different Cadillacs after being approved as a member. What's more? One can even switch between 18 models within the year.
However, subscribers have to pay a hefty amount of $18,000 per month, in addition to an initial charge of $500. While the car's insurance, maintenance, repairs, concierge service, and other fees are included in the monthly subscription.
Currently, the said service is only available in New York City with plans on expanding its reach to Dallas and Los Angeles.