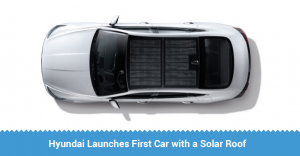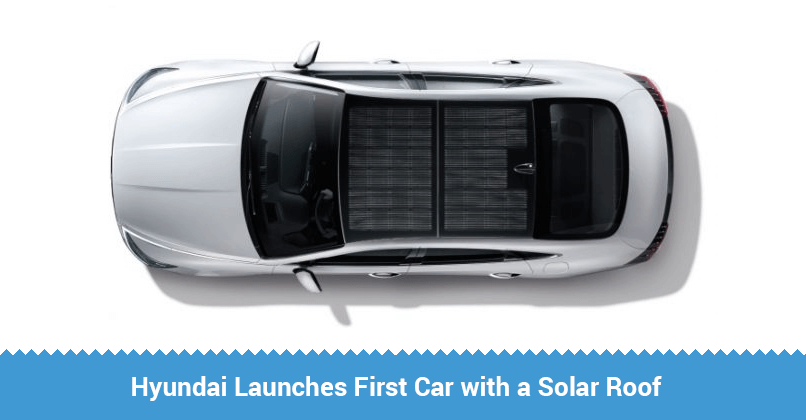 Solar panels can power your house, but what about your car? Hyundai Motor Company has launched its first-ever car equipped with a solar roof that helps recharge the Sonata Hybrid Sedan's battery pack. The groundbreaking eco-friendly technology will offer vehicles with more electrical power, as well as increasing fuel efficiency and driving range.
"Solar roof technology is a good example of how Hyundai Motor is moving towards becoming a clean mobility provider. The technology allows our customers to actively tackle emissions issue," said Heui Won Yang, senior vice president and head of Body Tech Unit of Hyundai Motor Group.
The company claims that the solar roof can charge the battery pack to 30-60% capacity, given six hours of charging per day. As compared to other electric cars, Hybrids like Sonata have relatively smaller battery packs. In a statement by Hyundai, the Korean carmaker says that with six hours of charge per day, the vehicle could "increase driver's travel distances by an extra 1,300 kilometers annually." The company added that initially roof-charging technology would be used on the latest version of its Sonata Hybrid, but it will roll out this technology to other vehicles soon. The company considered not only efficiency but also design while developing the solar charging system.
Back in 2009, Hyundai was the first company that made the jump to hybrids. Today the Korean carmaker has more than a half dozen hybrid and electrical vehicles in their line-up. The next step in the company's evolution is a car with a solar roof charging system. Though it is not a full-blown solar-powered car, the new Sonata Hybrid offers an integrated solar panel on its roof. Looking to the future, Hyundai says the solar roof "opens up perspectives for vehicles no longer need fossil fuel to operate."
Technical Specification
The internal combustion engine is a four-cylinder 2.0-liter gasoline unit from the "Smartstream" family producing 150 horsepower (112 kW) and 188 Newton-meters (139 pound-feet) of torque. As for the electric motor, it's good for 51 hp (38 kW) and 250 Nm (151 lb-ft). Combining the ICE with the electric motor results in a total output of 192 horsepower channeled to the wheels through a six-speed hybrid automatic transmission. The company claims that the thrifty Sonata Hybrid has a combined fuel economy of 20.1 kilometers per liter, which works out to 4.97 liters/100 km or the equivalent of 47.3 miles per gallon when the car is running on 16-inch wheels. Opt for the larger 17-inch set and fuel economy drops marginally to 19.1 km/l or (5.23 liters/100 km or 45 mpg).
Length (mm)
4,900
Width (mm)
1,860
Height (mm)
1,445
Wheel Base (mm)
2,840
Engine
Smartstream G2.0 GDi HEV
Transmission
6-speed hybrid automatic transmission
Combined Fuel Economy (km/l)
20.1 (16 inches) 19.1 (17 inches)
Displacement (cc)
1,999
Engine
Max. Power Output (ps)
152 192.2
Max. Torque (Kgf.m)
Motor
Max. Power Output (kW)
38 205
Max. Torque (N.m)
System Power Output (ps)
195
Trunk Space (VDA)
510
Source: Hyundai Motor Group
Latest High Tech Convenience Features
The hybrid model also gets a digital key that enables the driver to use a smartphone in place of a traditional key fob. With this digital key, the driver can easily unlock and start a car using the smartphone app. It uses Near Field Communication (NFC) technology, which is used to detect an authorized smartphone. With Bluetooth Low Energy (BLE) communications, the user can lock and unlock the car, activate the alarm, and even start the engine.
Forward Collision-Avoidance Assist
Sonata offers Forward Collision-Avoidance Assist (FCA), which is capable of pedestrian detection. It is an advanced active safety alert feature that informs the driver to emergencies. It is capable of braking autonomously in case of an emergency. The safety system functions in three stages by using front radar and front view camera sensors. Primarily, it warns the driver visually and acoustically. Further, it assesses the nature of the collision danger and can apply an increasing amount of braking force to avoid a collision.
With this advanced feature, Lane Follow Assist (LFA) automatically adjusts steering to help keep the vehicle centered in its lane of travel. It can keep the car centered at speeds between 0 and 145 kilometers per hour on both highways and city streets.
It also comes loaded with features, including:
Blue Link connected-car tech
12.3-inch driver's display
10.25-inch infotainment system
Android Auto
Apple CarPlay
Wireless phone charger
Bose audio system
Cruise control
No benefits?
Roof-charging system supports the electric power source of the vehicle, consequently improving fuel efficiency and reducing CO2 emission. The company added that the mid-sized passenger car had an improved engine control system to make sure energy use was as efficient as possible. The system is composed of a solar panel and a controller (Active Shift Control). According to the Korean carmaker, "ASC applies new control logic software to the Hybrid Control Unit (HCU), which then controls the electric motor to align the rotational speeds of the engine and transmission, ultimately reducing gear shift time by 30%." When solar energy activates the surface of the solar panel, electricity is produced. This electricity is converted to the standard voltage by the controller and stored in the battery pack. The company says that the solar roof can charge both while the car is stationary and while driving.
Is this the first-ever solar roof car?
No. Hyundai isn't the only automaker turning to solar for a boost. Recently, Toyota has re-introduced the rooftop solar panels as an option on the Prius Prime. As the BBC reports, a solar-powered charging system is also offered with the luxury Karma Revero. The company says owners of the vehicle can expect to drive 800 to 1,600 kilometers per year on energy from the sun. In the Netherlands, Dutch startup Lightyear is working on Lightyear One, an all-electric car. It uses solar panels on its roof and bonnet to help charge the car's batteries and claims ranger of up to 800 km.
The New Sonata Hybrid with the solar panel rooftop is now on sale in Korea, and soon you will find it in the North American market as well. The company hasn't revealed pricing yet.