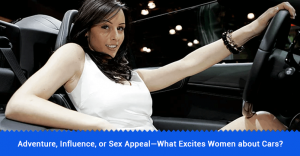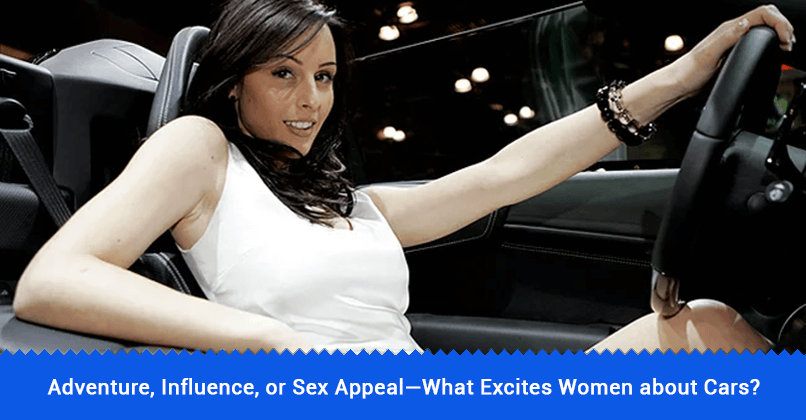 Cars are charisma; Cars are dreams; Cars are fantasies—can we deny the fact? No, we cannot. Cars hold a strange power of attraction, satisfaction, and comfort that pampers our self-esteem.
For ages, cars were considered the genre for men only. Perhaps, it is because mankind across the globe grew around the principles dictated by men. Everything that fuels their dominance, power, puissance, status, masculinity, and vehemence makes men feel excited about them or because the cars were objectified to them as women to recode their minds with the marketing codings. Whatever the reasons are, cars become men's girlfriends, also a persuasive way out to influence women.
Even in a society like the US, we have been grown listening to man-made theories such as, "Cars move men because they satisfy their urge of a testosterone boost." With the adventure and speed, car arouses the sexual desires in a woman for the man who owns it, or cars upscale men's financial, power, and influential stature in society. What we had not been told is the same applies to the women too.
Gone are the days when women were dependent on men for their food, shelter, and mobility. Our history of male-dominant society and the deep-rooted misogyny, racism, and status inequality in culture and religion shaped such women-marginalizing notions.
Things have changed a lot in many progressive societies of free speech and free expression. But before that, women were not entitled to the due respectable opportunities and freedom. Instead, they had been objectified and denied other routes of growing big and influential.
The US recession of the late 60s and early 70s hit Hollywood gravely. While the movies with more nudity, more masculinity, and more male-dominance supported the cinema, corporate sector, and industry, on the other hand, they further gave rise to the toxic mindsets of patriarchy.
Studies have shown that for various years, the mobility infrastructure in the US was quite gender-insensitive. Due to which women's mobility was inadequate.
Back then, due to the inadequate transportation facilities, women would commute less, use public transport more often, take shorter trips, move mostly for necessary house errands, and mainly depend on men for their mobility. It automatically concentrated on men as the only market. But, the dynamics are changed now.
The automobile sector's primary customers are still men, but it's now recognizing the power of women as potential customers.
Women are more mobile and adventurous, earning bigger and better, afford hefty pricing, travel a lot, and grew more technical and mechanical. Today, when they are challenging men with their evolved abilities of distance, velocity, and driving, they also have increased the customers' circumference of the automotive industry to cater to them.
Car manufacturers, car dealers, car leasing companies, car financing banks, car service centers, car marketing showrooms, automotive exhibitions and fairs, and everywhere, you will find the women with the love of the car.
Here are our top five reasons, women love cars, in fact, more than the men:
Mobility is Woman's Empowerment
Success, achievements, learning, economic freedom, socializing, contribution—all depends on our mobility. The more mobile we are, the better we serve our ambitions, society, and our loved ones. Women's overdependence on men for mobility repressed the aspirations for a thriving career and learning as well as financial stability and networking. Consequently, it also suppressed the essential human drives required for survival, such as adventure, competition, and exploration.
Mobility empowers a woman and her dreams of status, influence, and comfort. Her courage and need for speed open the doors for several employment opportunities, which in former days were the domain of men only, such as auto engineering, power-racing, auto-service mechanics, car-dealings, car-brokerage, and many more.
Women Love Dominance As Much As Men Do
Power and dominance are the traits that keep us away from the insecurity of fragility of life. Dominance saves us from suffering, trials, and tribulations. So, it is safe to say that these are the basic instincts of humans. Being the representative of the same class of sapiens, women adore dominance and power as much as the men do. The confidence of influence relaxes their hormones as it eases men's.
A Woman's Car Is Her Friend In Need
In an emergency, a car is her best friend. Business, job, health, finance, or weather emergency—anything can take a toll on nerves when the means of mobility is not available. A functional, efficient, and smart car is an answer to all the queries of women as much as it supports men in the hours of rush and movement—a companion who is always helpful and always available.
Luxury Cars Instigates Sexual Desires in Women Too
Over the years of the influence of marketing and advertising, sexual desires and provocations are now the auras of luxury cars. Women are inclined to the macho sexual appeal associated with the cars too. Driving a Hummer, SUV, Sportage, Ferrari, Benz, Silverado, and likes as Porsche and Ford give them mental relaxation of having a superb and attractive man with them.
Latest Cars Compliment Women's Status, Tech-Savviness, and Confidence
Many women are making as much money as men, so they can entitle themselves with reliable, gorgeous, and robust companions like Sedans, Sport, SUVs, GTIs, etc. Today, from auto loans to swapping an auto lease, women have uncountable options to pick the latest model of the dream car to drive in every moment of need, amusement, and thrill. It was never as easy as it is today to drive any car you wish to even if the available finances are not enough. To elevate her financial and influence status, car-leasing is a progressive way to captivate the glimpses of the onlookers and stun them.
Driving the car of dreams in any age excites, thrills, and empowers women while satiating the urges of adrenaline-rushing thrills, comforting needs of a sturdy companion in every thick and thin, and supporting the status symbol, pride, and influence.