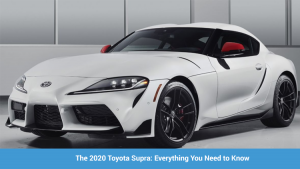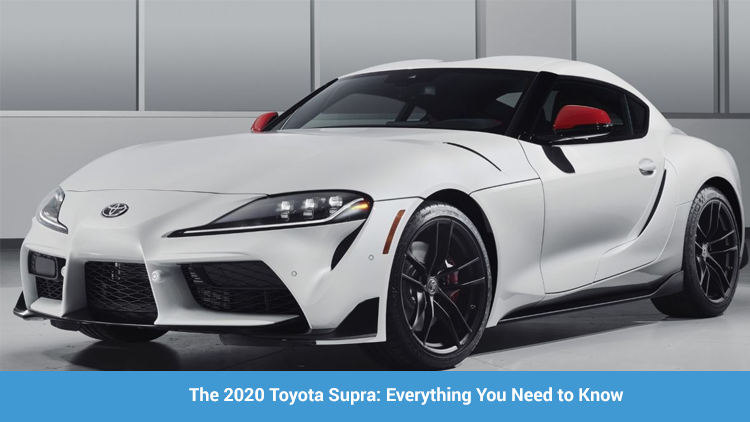 After waiting for 21 years, sports car fans finally have one of Toyota's most iconic models, Toyota Supra. Toyota publicized the all-new fifth generation Supra sports car at the 2019 Detroit Auto Show. Here, we have compiled almost everything you need to know about the car. Toyota Supra returns as a hatchback coupe which was designed in collaboration with BMW and will share a platform and powertrain with the German luxury automaker's remodeled 2019 Z4 roadster. It features inline-6 power, which definitely is a peculiar engine for Supra.
Toyota's official website reads like, "After years of rumors, whispers and a whole lot of anticipation, we've finally been given the green light to say it: Supra is back. The all-new 2020 GR Supra is no mere sports car—it's our purest expression of performance, designed to allow driver, car and road to become one. Beautifully balanced, and even more beautiful to look at, the GR Supra is set to define the next generation of performance."
Since 1998, it hadn't been traded in the United States. In 2002, its last generation model went out of production worldwide. Ever since sports car fans have been waiting for the Supra's resurrection. Now the wait is finally over as the Toyota has released full details, including pricing, performance specs, and fuel economy figures about its born-again sports car. The 2020 Supra – codenamed A90 is one of the most agile sports cars for being short, wide, and powerful at the same time. In just 4.1 seconds, it can launch from 0 to 60 mph and can attack corners like an autocross champion. Toyota developed and tested it at Germany's famous Nurburgring, which is definitely a proven ground of choice for high-performance products. This also indicates that Toyota wants Supra to be a true driver's car.
Supra's body is sculpted, with rounded organic shapes, ridges for air ducts, and a nose that fixes into a semi-horse collar glimpse. The Supra has classic sports car symmetries with a long hood, a set-back cabin with a double-bubble roof design, wide rear haunches, and a short rear deck with a prominent spoiler.
It offers two standard drive modes: Normal and Sport. Both modes adjust the traction control, throttle response, steering weight, transmission shift points, differential tuning, and exhaust sounds by themselves. The Normal mode automatically activates a Comfort setting for the dampers. This makes the Supra practically comfortable on the street.
Barret-Jackson Auction
Shortly after the Supra showed, #001 went to auction at Barret-Jackson. The first globally produced Supra went for $2.1 million to the highest bidder in Scottsdale, Arizona. Toyota hasn't released the buyer's identity. Finished in flat gray and red mirror caps, riding on black wheels with a red upholstery inside, it is one of a kind. The revenue was donated to a charity benefiting the American Heart Association and the Bob Woodruff Foundation. Toyota CEO Akio Toyoda signed the engine bay. He also presented the buyer the racing suit, the driving gloves, the shoes, and the helmet he was wearing while he personally tested the Supra during its development phase. Still, it is a ton of money to pay for a car that otherwise costs under $60,000.
"With its sensuous bodywork, athletic stance and expressive, jewel-like LED headlights, the 2020 GR Supra is a stunning work of art. But it's the science behind the design that makes this car a true masterpiece. Up front, its wide grille is designed to channel cool air directly to the turbocharged engine, helping optimize performance. Up top, its "double-bubble" roof adds space inside while reducing aerodynamic drag outside. And its flared rear spoiler does make more than a dramatic statement—it helps reduce body lift and helps keep Supra planted when running at speed," the company said.
Models and pricing
The Base 2020 Supra: The base 2020 Supra 3.0 costs $50,920, including $930 destination charge. This model comes with a 6.5-inch screen with Bluetooth connectivity, shift paddles, Alcantara upholstery, forward collision warning, launch control, and automatic-rain sensing windshield wipers. Plus, the buyer gets a JBL audio and navigation system along with some other safety technologies offered with the Driver Assist package.
The Supra 3.0 Premium: This model starts at $54,920 (destination charge inclusive). The Supra 3.0 Premium includes an 8.8-inch screen, heated seats, wireless Apple CarPlay, wireless phone charging, a color head-up display, and the 12-speaker JBL audio system.
The Launch Edition: Finally comes the high end limited edition, starting at $56,180. The first 1,500 cars made in the U.S. will come under this category. This edition comes with features including 19-inch alloy wheels, automatic emergency brakes, automatic high beams, a red leather interior, and a number of other jazzy add-ons. This Launch Edition Model comes in absolute zero white, nocturnal black, or renaissance red 2.0.
| | |
| --- | --- |
| Model | Price* |
| Launch Edition | $55,250 |
| 3.0 Premium | $53,990 |
| Base 2020 Supra | $49,990 |
*Note: All the models charge s mandatory $930 destination charge.
It sounds like BMW
A German body and a Japanese soul. Yes!!! As expected, it sounds like a BMW. Of course, Supra fans have no problem with it. After all, BMW inline sixes sound inspiring and pleasing.
It is getting Straight-Six and Four-Cylinder power
Toyota, in collaboration with BMW, is working on the rear-wheel-drive platform for the Supra. Plus, with this partnership, enthusiasts get access to smooth, straight-six power. Toyota assured that the Supra will get an inline-six at Goodwood. Tada, the chief engineer of Supra, has been claiming that the Supra will come so equipped to surprise its fans.
Supra's six will be offering 335hp which is BMW's single-turbo 3.0-liter B58B30 unit. The same is found in the M240i and many other German cars. Supra will also offer up a four-cylinder option and a BMW's turbocharged 2.0-liter, code-named B48B20, specifically. Tada claimed that this engine is lighter and offers much better weight distribution. According to the Environmental Protection Agency (EPA), its fuel economy in the city checks in at 24 mpg, on the highway it checks at 31 mpg, and 26 mpg in a combined cycle.
Bad news for the American Supra fans: You won't get a four-cylinder supra. Jack Hollis, the VP for the Toyota brand in the US, said the company anticipated that there will be no much demand in the US. Hence, Toyota is not preparing to sell a four-cylinder Supra in the US – at least not yet.
Specifications
335 Horsepower
50:50 weight distribution
4.1 seconds, 0-60 mph
365 LB.-Ft. of torque
3397 Pounds, total
155-Mph Top Speed
The Interior is all BMW
As we all know that the Supra will be sharing a lot with the Z4, the interior is the most obvious feature of sharing. From the switchgear to the iDrive, almost everything is right out of a BMW. Of course, BMW makes a nice interior; therefore, it isn't that bad. But, it isn't that great because Toyota's halo car sharing switchgear of a different brand is an odd choice, indeed.
Manual option – You might be missing that
The company revealed that both engines will be proposed with an eight-speed automatic transmission, while there is no mention of a manual option. There is no possibility of a manual Supra.
A BMW-Toyota shared a platform
A BMW-Toyota collaboration has given us the Supra. The two companies are mainly working collectively on engines and lithium-ion batteries. Their collaboration and the joint venture are driving a sports car platform. This platform also supports the new BMW Z4. Though, the Supra and BMW Z4 are not twins. As anticipated, the BMW will only arise as a roadster, while the Supra is a coupe. It is expected that the Supra will get more attention.
Supra is rear-wheel drive
At Geneva, Tada confirmed that like all previous Supras, it will be rear-drive, too. He also assured that this will be even better to drive based on his experiences learned from the 86 Supra.
Supra is coming with blocked off air vents
Well, we were definitely thwarted to see fake air vents all over the supra, but luckily they are not really fake. In fact, they are vents that are blocked off by detachable plastic covers from the factory. Tada shared that he wanted them to be removable specifically for those who want to build race cars out of their new Supras.
Wrap-up
Pros
Low-slung and sleek
Fast
Short, wide, and powerful
Agility for days
Reasonably priced
Cons
Too much BMW
Some unnecessary curves
No manual transmission option
No base 4-cylinder yet