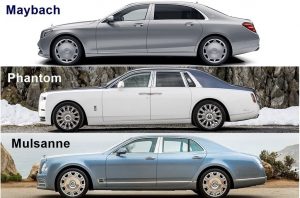 Luxury cars are called luxurious for a reason. They are crammed with tons of comfortable features that make driving in horrible traffic hours a breeze.
Today we bring you the 4 super luxury cars of 2019:
1. Rolls-Royce Phantom
The prodigal symbol of wealth for many years, Rolls-Royce is an extremely comfortable ride, a full-size luxury saloon. When it comes to style and elegance, no one does it better than Rolls-Royce. And the latest Rolls-Royce Phantom continues the tradition. Like its predecessor, it has a short overhang front and an upright front end. The bonnet is long, and the passenger compartment is set back ensuring complete relaxation with wood, fine leather, and real metal accents in the cabin. People love it for its sleek glamor, which makes it fit for a king.
Phantom offers a standard and a long-wheelbase version with a flowing rear end. The 2019 Phantom starts at $450,000. The vehicle weighs almost three tonnes. Phantom has the ability to accelerate from 0-100mph and from 30-70mph through the gears faster than its predecessor, Ford Focus RS. It features a highly refined and flexible 6.75L V12 engine along with a throttle pedal on step-off, 563@5000 rpm Horsepower, and 664@ 1,700 rpm Torque.
The way this hand-built car is engineered is a sight to behold. The finest of leather is used for its interiors. It is the quietest of Rolls-Royce ever created. You can even customize it according to your personal preferences. The car features a big, rimmed steering wheel with the ideal feel and weight, making it easy to drive a car of such size flawlessly on the road.
2. Mercedes-Maybach S650
Mercedes-Maybach is one special car produced by a limousine range that is respected, loved, and admired all over the world. The new S650 emerges as the modern leader for Daimler's Maybach super-luxury brand. It demonstrates the open-top S-class design along with other great features the highlight being the dynamic profile paired with a soft top and the dropping line that slopes down towards the rear of the car.
The twin-turbo 6.0L V12 engines deliver smooth and effortless acceleration from any speed. It features a 621@ 4,800 rpm Horsepower, and 738 @ 2,300 rpm Torque. Maybach S-Class is best enjoyed while sitting at the back and relaxing on massaging leather recliners. V12 engines are known for their quietness and, with the Maybach S650, it is the same. You can barely hear it. S650 is capable of covering a distance of 60 mph at 4.6 ticks of a stopwatch.
For 2019, the company has updated its most luxurious sedans with all-new classy interiors and exteriors, which is one of the special characteristics of S650. The pricing for the 2019 Maybach has not been announced yet, but as the 2018 Maybach S560 starts at $168,000 and the 2018 Maybach S650 starts at $198,700, it is expected that the 2019 Mercedes-Maybach's price is going to be more than $200,000.
3. Bentley Mulsanne
Mulsanne is a limousine that spells out aristocratic in its truest sense. It is a top-level luxury vehicle that exudes a grand presence. The car gets its name after the Mulsanne Corner of Le Mans racing circuit where the Bentley race cars won six times in the past. Though less formal than the Phantom, its interior ambiance reminds one of sitting in an old gentleman's club. As far as its appearance is concerned, it is more modest and somewhat discreet compared to its rival the Rolls-Royce. Thus, it features contemporary design and typical on-point Bentley craftsmanship. The sharp lines highlight its front with front grille and sparkling steel vanes makes the vehicle appear wide and low as if connected to the road. The price for this luxurious beast starts from $304,670 – $361,500.
The driving experience might not be as silent as the car's other counterparts as car tests suggest that the vehicle makes its presence known with spirit. The Mulsanne comes with a 6.8L V8 with a pair of turbochargers. And being such a massive machine, the car has surprisingly quite the speed with 505@4000 rpm Horsepower and 752@1,750 rpm Torque and the ability to reach 62 mph in merely 5.1 seconds.
Thought it offers gratifying features on its own, you could even personalize it and choose from an expansive variety of both interior and exterior options. There are more than 100 exterior colors and finishes, 24 hide colors, 11 veneers, and 13 duo-tone options. You can add luxurious features as well.
The Cullinan is a true Rolls-Royce with excellent mechanical refinement, drivability, comfort, and impeccable ride experience. The car is named after the world's largest uncut diamond and has the highest starting price of any SUV on the planet – $345,000, sitting above Rolls Royce Ghost and below Phantom in the company's lineup.
The Cullinan is the first all-wheel drive. Though big and tall in structure, you will be surprised to see how capable the car is, and manageable too. The Phantom feels supersized with its 19 feet length, whereas the Cullinan is only six inches longer than the Cadillac Escalade at 17-foot-six-inch. The Cullinan is no doubt big in size, but if you have prior experience of driving a large-size vehicle and know how to handle it, then you can easily drive this too.
The cabin is spacious and adorned with lamb-wool carpeting and box grain leather. And if you want to add to it, you could customize almost every part of this lavish interior whichever way you like. The car comes with highly- adjustable air suspension and raises 40mm that allows Cullinan impressive off-the-road capability at the touch of a button. The towing capacity is currently being capped at 2.6 tonnes but is likely to increase to 3.5 tonnes soon. The car estimates a zero-to-60 mph time of just 4.8 seconds that is quite impressive for a car the size of a Cullinan. The vehicle has 563@5,000 rpm Horsepower with 627@1,700 rpm Torque with a 6.8L V12 engine.
The price of Rolls-Royce Cullinan is $325,000. Along with that, Cullinan has successfully conquered three continents. It has covered a whopping 12,000 miles of the world's toughest terrain (in partnership from National Geographic) from highlands of Scotland to Arabian deserts and the Austrian mountains to the landscapes of the United States to demonstrate its supreme ability to run effortlessly and smoothly on any kind of road or terrain.
That's all for the super-luxury cars. They would continue to stand out and be the epitome of wealth and luxury. But Jaguar I-Pace's release last year had already made it clear that we shall be seeing a lot more of electric luxury cars in 2019. The news suggests that in later in 2019 and continuing in 2020, Jaguar would be getting competition from brands such as Audi, BMW, Mercedes-Benz, and Porsche. Famous electric car companies like Tesla, along with many other automakers, are investing heavily in electric vehicles and we can expect to see a variety of electric luxury cars this year.